StudioEleye


Artist working with autobiography from personal documentation in sculpture, video, using text, collected objects, materials and photography or prints.

currently based in Amsterdam (NL)


Ass 2, 2020
78.5 x 74.4 x 14 cm
print on fleece wallpaper on forex plate between two wooden beams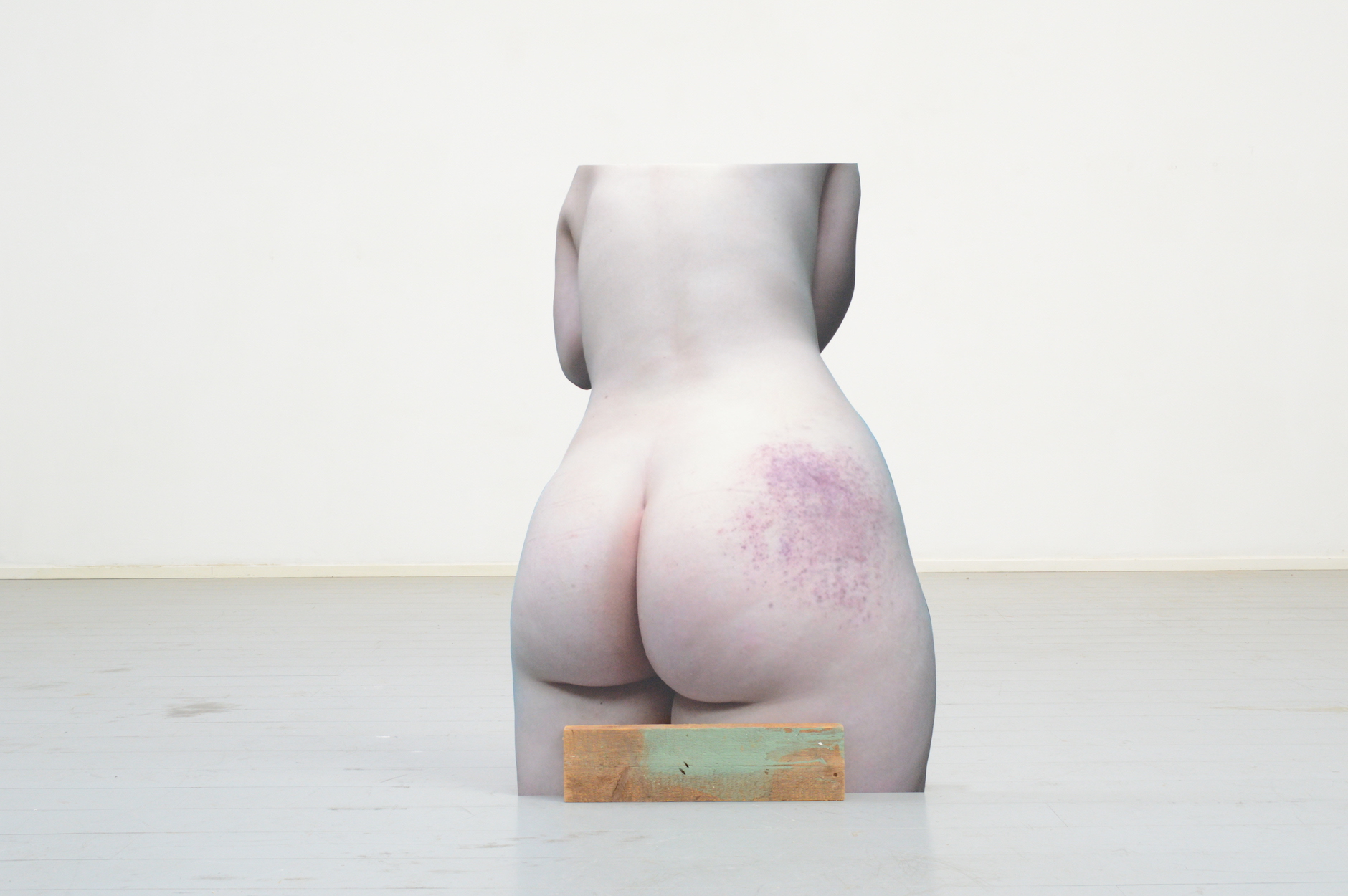 Ass 3 (blue and red), 2020,
149.8 x 101.2 x 13 cm
print on fleece wallpaper on sandwich foamboard between two wooden beams
Ass 6 (chair), 2020
266 x 148 x 50.5 cm
print on fleece wallpaper on sandwich foamboard with chair and towel hook

Dad's Swearwords signs / Pap's Scheldwoordborden
Takkewijf, 2021
26.3 x 85.4 x 3.5 cm
various pieces of wood and two screws

Verneukeratief, 2021
20 x 89 x 8.5 cm
various pieces of wood

Fuckenelly, 2021
12 x 92.5 x 4 cm
various pieces of wood and two screws

Godtomme (nog aan toe), 2020
24.2 x 105.3 x 4 cm
various pieces of wood
Sufkut, 2020
32.3 x 80 x 4 cm
various pieces of wood, two metal hooks and two screws
Zeverzak, 2020
30.6 x 68 x 9 cm
various pieces of wood and six screws

This series of wall sculptures is inspired by the typical swearwords of Eleye's father. The words are familiar in her hometown region and can be considered as portraits of her parent. The bords remind the viewer of practical self-made signs often used for houses, bars, camping sites or boats. They are made out of domestic scrap-wood coming from renovated interiors that show signs of past use and deconstruction.

Deze serie wandborden is geïnspireerd op de typische scheldwoorden van haar vader. Hier wordt zowel de manier van vloeken weergegeven die zowel typisch is voor Zuidoost-Brabant waar Eleye's familie woont als de manier waarop haar vader scheldt. Het werk herinnert aan knutselachtige doe-het-zelf naamborden die vaak aan huizen, boten of in café's hangen. Ze zijn gemaakt van resthout, afkomstig uit gerenoveerde huizen die huiselijke sporen uit het verleden tonen.
Credits: Tommy Smits
Groupshow, 2022
De Cacaofabriek, Helmond

Screening De Eetkamertafel (The Dining Table)

Thanks to Zuiver, Manus Groenen, Biek van Bree en Julienne Tullemans

Credits: Suzan van der Loo, Paul Bogaers



Family Works, 2022, solo show
De Fabriek Eindhoven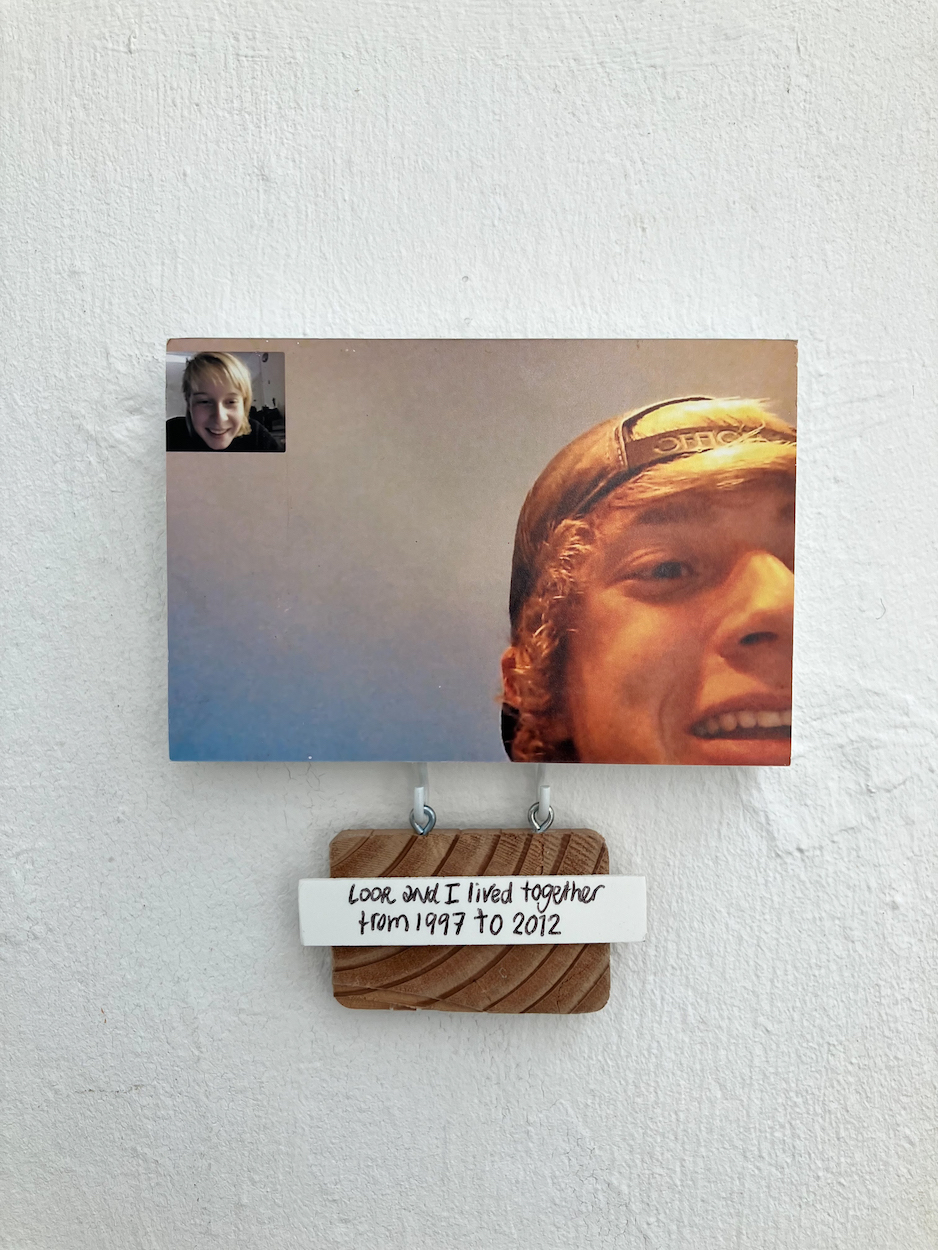 Grandpa Pieter playing the clarinet and grandma Nellie the flute// Opa Pieter
op klarinet en oma Nellie op blokfluit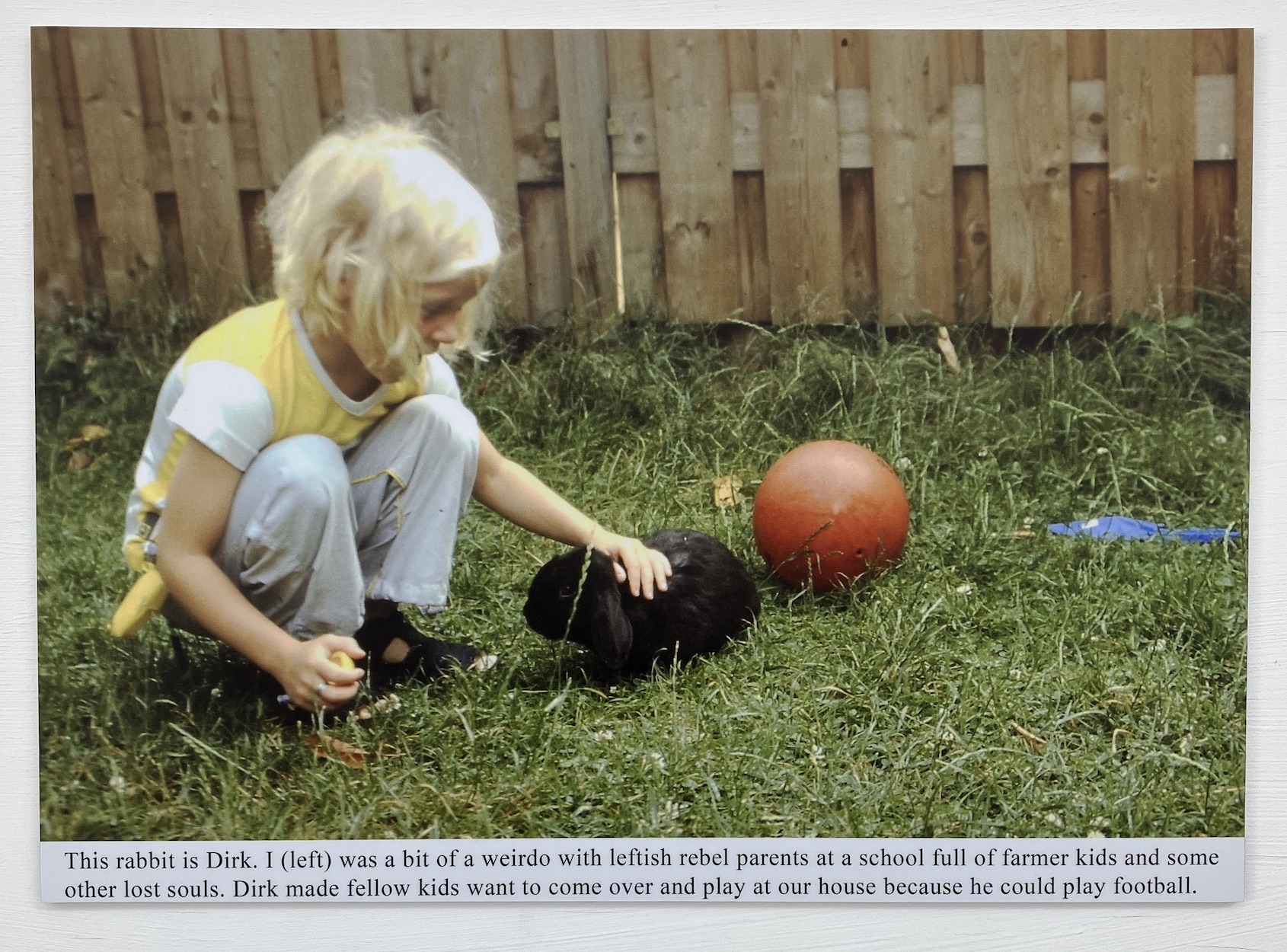 Suzan, Eleye's parent, after assisting in the making of this wallpainting. Here a story is enlarged that Eleye wrote when she was seven years old during the same month her parents divorced //
Suzan van der Loo, Eleye's ouder, hielp mee aan het maken van de muurschildering waarop een verhaal is uitvergroot dat Eleye schreef als 7-jarige in dezelfde maand als de scheiding van haar ouders.
Left: Friend Anne and her parent, wearing a matching shirt, Right: Enlish translation of the wallpainting// Engelse vertaling van de muurschildering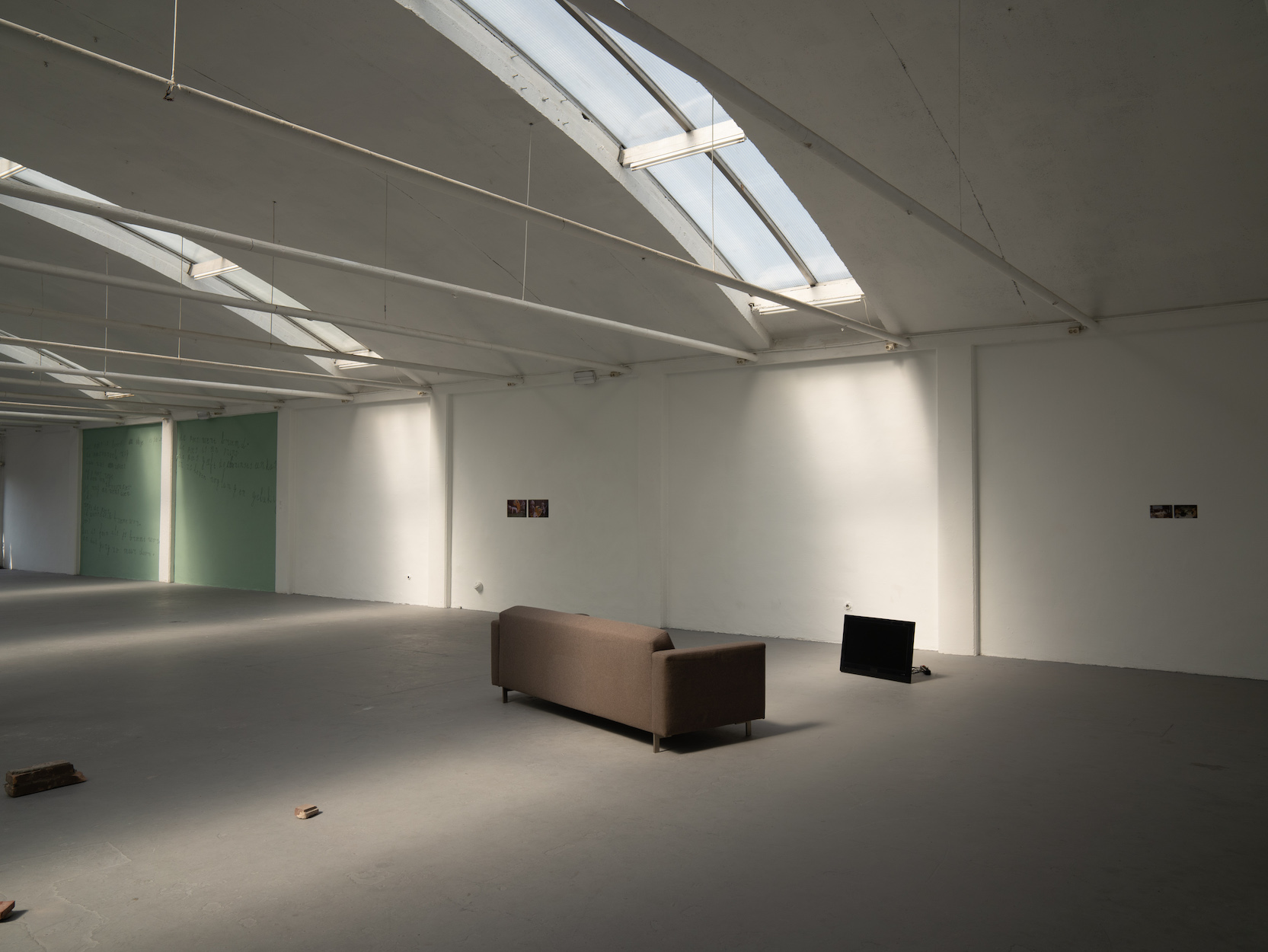 The works in the exhibition investigate family, the loss of childhood and changing family relationships. This 7-week residency project was concluded with this solo show. Visitors were able to meet family members in real life in the exhibition, who normally only show up as subjects in the works.

--> Curator Fabienne Chiang wrote the exhibition text:
Click here for English version //

--> Curator Fabienne Chiang schreef de tentoonstellingstekst:
Klik hier voor de Nederlandse Vertaling

Thanks to Paultje, Dieke Venema, Koen Dijkman, Suzan van der Loo, Twan Goevaerts, Pieter en Nellie van der Loo, Rietje Koppens, Harrie Boerenkamps, Loriën Boerenkamps, Vera Meulendijks, Jo en Riek Boerenkamps, Ferdinand Kokou Makouvia, Paul Bogaers.

Credits: Peter Cox, Paul Bogaers and Niek Tijsse Klasen
Past: 5 - 12 August 2022


This show was supported by the Mondrian Fund, Cultuur Eindhoven and Kunstloc //
Deze tentoonstelling is mede mogelijk gemaakt door het Mondriaan Fonds, Cultuur Eindhoven en Kunstloc.





2022, Ass-Works, solo
BRUTUS Rotterdam
The exhibition was accompanied by a
text written
and
recorded
by philosopher
Simon(e) van Saarloos
What if the foamboard was stone
Text design: Dongyoung Lee
People in the pictures: Dieke Venema and Dewi Baggerman
The Ass-Works debuted at BRUTUS, Rotterdam.
Click here for info on the Brutus website

Past: 16 June - 17 July 2022
Credits: Beeldsmits, Suzan van der Loo
We no longer live at number 8, 2021, solo, Daily Practice Rotterdam



In this exhibition works were shown relating to the house and family Eleye grew up in. // In deze tentoonstelling worden werken getoond die gaan over het huis en de gezinsleden waarmee Eleye opgroeide.

Find exhibition text here, written by Suzanne Weenink, translated by Moosje M. Goosen




Many thanks to Suzanne Weenink


Click here for info on the Daily Practice website

Credits: Beeldsmits




Offspring 2020/Zigzag, 2020
De Ateliers Amsterdam
curated by Fabian Schöneich


This exhibition concluded two years of working at post-academic institute De Ateliers in Amsterdam. Various works show the different media, materials and people that take part in Eleye's practice. For example the nightstand piece, a collected object from the family home, a short experimental film portraits her relationship with her mother in a conflict about the family table. The swearwords often used by her father and a monumental picture of the father's torso with relationship tattoo, he and her mother still wear after their divorce, stands in the middle of the space.


Deze tentoonstelling rondde de tweejarige werkperiode af waarin Eleye werkte bij de post-academische instelling De Ateliers in Amsterdam. In deze tentoonstelling zijn werken gekozen die de verschillende materialen, technieken en personen laten zien die een rol spelen in Eleye's werk. Een voorbeeld is het nachtkastje waar haar broertje naast is geboren en De Eetkamertafel (2020), waarin de relatie tussen haarzelf en haar moeder zichtbaar wordt in een conflict over de familietafel, de scheldwoorden van haar vader en een monumentale foto met zijn torso met een relatie tattoo, welke haar vader en moeder nog beide dragen, staat in het midden van de ruimte.

︎ de-ateliers.nl (post-academic institute Amsterdam)
︎ Fabian Schöneich (curator)
Credits: G.J. van Rooij