Exhibition views


Family Works (solo) 2022,
De Fabriek Eindhoven

Past: 5 - 12 August

This exhibition concluded 6 weeks of working in De Fabriek and the return to Brabant, one of the southern provinces in The Netherlands where I grew up. This exhibition investigates family, the loss of childhood and the changing family relationships.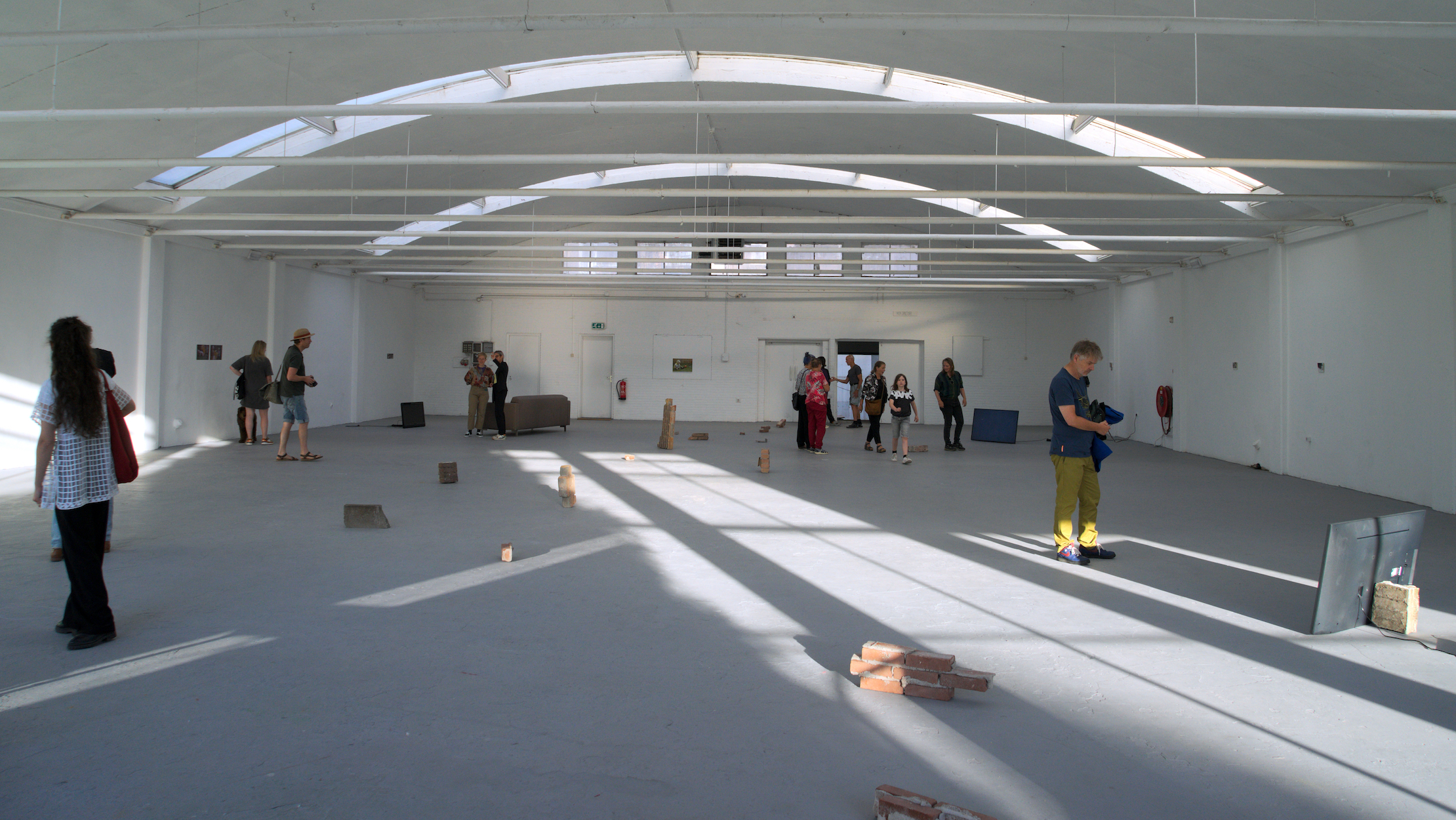 photos: Niek Tijsse Klasen

This show was supported by the Mondrian Fund, Cultuur Eindhoven and Kunstloc



Ass-Works (solo) 2022,
BRUTUS Rotterdam


Past: 16 June - 17 July

The photosculpture series Ass-Works debuted in this solo show.
Click here for info on the Brutus website

The exhibition was accompanied by a text written and recorded by philosopher Simon(e) van Saarloos: What if the foamboard was stone. Text design by Dongyoung Lee.



Credits: Beeldsmits



We no longer live at number 8 (solo) 2021, Daily Practice Rotterdam



In this exhibition works are shown that relate to the house and family Eleye grew up in. // In deze tentoonstelling worden werken getoond die gaan over het huis en de gezinsleden waarmee Eleye opgroeide.

Click here for info on the Daily Practice website






List of works/ Lijst van werk:

Mam's Arm (Mom's arm), 2021
180 x 92.3 x 32 cm
print on sandwich foamboard, wood, angle bracket and screws

Pap's Arm (Dad's arm), 2020
194 x 142.3 x 45.4 cm
print on fleece wallpaper on sandwich foamboard, brick, beam, angle brackets, washers and screws

Portrait of figure with picture in face, 2019,
118.8 x 79 x 5.1 cm
acrylic marker, cardboard, screws and washers on wooden frame

Family portrait, 2019
21 x 34 x 3.5 cm
cutlery, photographs, paper print, nails and wooden beam

Foto met Elmex doos (Photo with Elmex box), 2020
21 x 10 x 10 cm
photo, Elmex box, picture hanger and nail
(in private collection)

Pap met oma Rietje's vinger (Dad with grandma Rietje's finger), 2020
17 x 24 x 9.4 cm
construction foam, picture, pins, plaster and spray paint


Photos: Beeldsmits




Many thanks to Suzanne Weenink



Find exhibition text here

︎ dailypractice.nl





Offspring 2020/Zigzag, curated by Fabian Schöneich, De Ateliers Amsterdam

This Offspring exhibition concluded two years of working and receiving generous support at post-academic institute De Ateliers in Amsterdam. For the exhibition a range of various works were selected that show different media, materials and people that take part in Eleye's practice. For example in the nightstand piece (where her her brother Loor was born next to) is a collected object from the family home, combined with photography and text. The short experimental Dining Table film portraits her relationship with her mother in a conflict about the family table. The swearwords often used by her father in wood hang onto the wall and a monumental picture of the father's torso with relationship tattoo, he and her mother still have after their divorce, stands in the middle of the space.

Deze tentoonstelling rondde de tweejarige werkperiode af waarin Eleye werkte en genereus werd ondersteund bij de post-academische instelling De Ateliers in Amsterdam. In deze tentoonstelling zijn werken gekozen die de verschillende materialen, technieken en personen laten zien die een rol spelen in Eleye's werk. Een voorbeeld is het nachtkastje waar haar broertje naast is geboren waar fotografie, tekst en een bestaand object worden gecombineerd, en de Eetkamertafel film, waarin de relatie tussen haar moeder en haar zichtbaar wordt in een conflict over de familietafel.




photos: G.J. van Rooij

List of works:

Pap's Arm (Dad's arm), 2020, 194 x 142.3 x 45.4 cm
print on fleece wallpaper on sandwich foamboard, brick, beam, angle brackets, washers and screws

De Eetkamertafel (The Dining Table), 2020, 1920 x 1080, video in loop, colour, HD, AAC, 11:50 min

Godnakend, Oetlul & Huppelkut, 2020, various dimensions, wood and screws
(in various private collections)

When casting daddy's feet, 2019, 15 x 76.8 x 50.7 cm
plaster and pen on paper on wooden closet shelf

Loor has been born next to this nightstand

, 2020, 170 x 95.5 x 39 cm nightstand, round metal bar, four screw eyes, iron wire, four screws, acrylic marker and photos on wood (in the collection of Joep van Lieshout)




︎ de-ateliers.nl (post-academic institute Amsterdam)

︎ Fabian Schöneich (curator)