StudioEleye
artist, b. 1994,
currently living and working in Amsterdam

Current exhibition

Preview (during Art Rotterdam)
19-22 May, Brutus
Keileweg 14a, Rotterdam

Friday 20 May 11 am - 7 pm
Saturday 21 May 11 am - 9 pm
Sunday 22 May 11 am - 7 pm

Solo
16 June - 17 July, Tegelzaal, Brutus
Opening: 16 June, 18.15
Keileweg 10, Rotterdam

More info: https://www.brutus.nl/nl/programma/programma/preview+eleye+boerenkamps/


Both exhibitions are accompanied by a text written and recorded by Simon(e) van Saarloos



These larger-than-life cut-out photographs come from a collection of images that were taken of Eleye's own behind. They show bruises and scratches that were caused by everyday accidents like falling and stumbling, or while making love.

Deze meer dan levensgrote uitgesneden foto's komen uit een verzameling foto's van Eleye's achterste. De foto's laten blauwe plekken en krassen zien die werden veroorzaakt door sex of alledaagse ongelukjes, zoals vallen en stoten.




Ass 2, 2020
78.5 x 74.4 x 14 cm
print on fleece wallpaper on forex plate between two wooden beams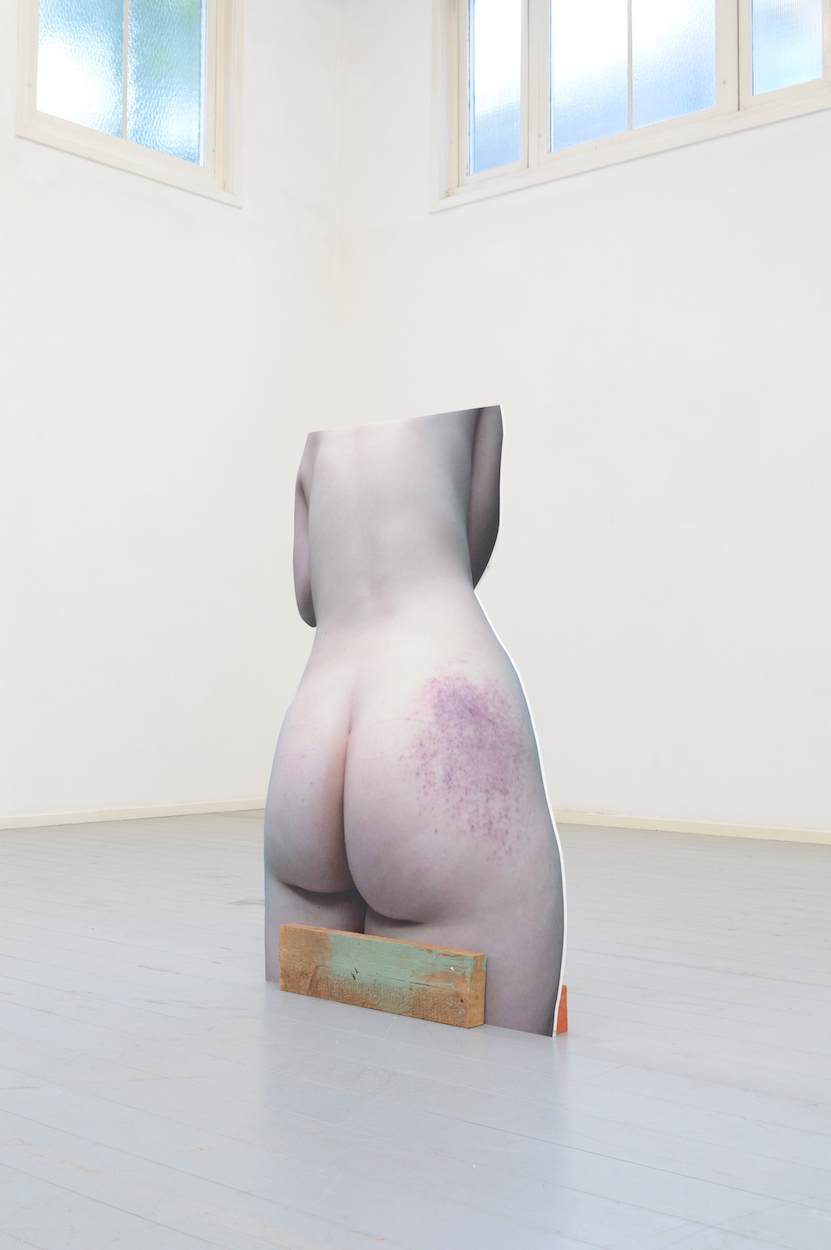 Ass 3 (blue and red), 2020,
149.8 x 101.2 x 13 cm
print on fleece wallpaper on sandwich foamboard between two wooden beams





Ass 7, 2021
119.8 x 69 x 21 cm
print on sandwich foamboard between brick and wooden beam


Standards of Living
Standards of living: Dad taught me (…), 2021,
122.3 x 9.3 x 5.3 cm
various pieces of wood, pen on forex and white thumbtack




Standards of living: Card on standard (Paul XXXXXX)

,
2020, 127 x 14.6 x 32 cm
paper postcard on triplex, screws and various pieces of wood


photos: Tommy Smits



This series of wall sculptures are inspired by the typical swearwords often expressed by Eleye's father. These works portray the way of cursing that is typical for the region where her family lives and can also be considered as the portait of her father. The works remind of practical self-made signs often used for houses, bars or boats. The works are made out of domestic scrap-wood from renovated interiors that show signs of a deconstructed past.

Deze serie wandborden is geïnspireerd op de typische scheldwoorden van haar vader. Hier wordt zowel de manier van vloeken geportretteerd die typisch is voor de regio waar Eleye vandaan komt als de manier waarop haar vader scheldt. Het werk herinnert aan de knutselachtige doe-het-zelf naamborden die vaak aan huizen, boten of in café's hangen. Ze zijn gemaakt van resthout, afkomstig uit gerenoveerde huizen die sporen uit het verleden tonen.





Takkewijf
, 2021
26.3 x 85.4 x 3.5 cm
various pieces of wood and two screws
Verneukeratief, 2021
20 x 89 x 8.5 cm
various pieces of wood
Fuckenelly, 2021
12 x 92.5 x 4 cm
various pieces of wood and two screws

Godtomme (nog aan toe), 2020
24.2 x 105.3 x 4 cm
various pieces of wood



Sufkut
, 2020
32.3 x 80 x 4 cm
various pieces of wood, two metal hooks and two screws


Zeverzak, 2020
30.6 x 68 x 9 cm
various pieces of wood and six screws


For sale, Te koop, €1500 incl 9% VAT
︎ e-mail

photos: Tommy Smits